Art & D&T
Our Vision for Art
"Art at Offmore is highly engaging, creative, aspirational and cross curricular. We encourage children to investigate the lives and work of both local and famous artists, so that they have ambitions and an appreciation of how Art shapes our history and contributes to the culture and creativity of our nation. We provide children with meaningful, challenging opportunities to develop and extend skills and to express their individual interests, thoughts and ideas."
Our Vision for D&T
"D&T at Offmore is riveting, relevant, practical and aspirational for our children to become independent, creative, problem solvers and thinkers as individuals and as part of a team. We engage our children with exciting, industry relevant lessons and provide them with opportunities to apply what they learn in maths and science, so that they may choose a future in engineering."
Offmore's outside art gallery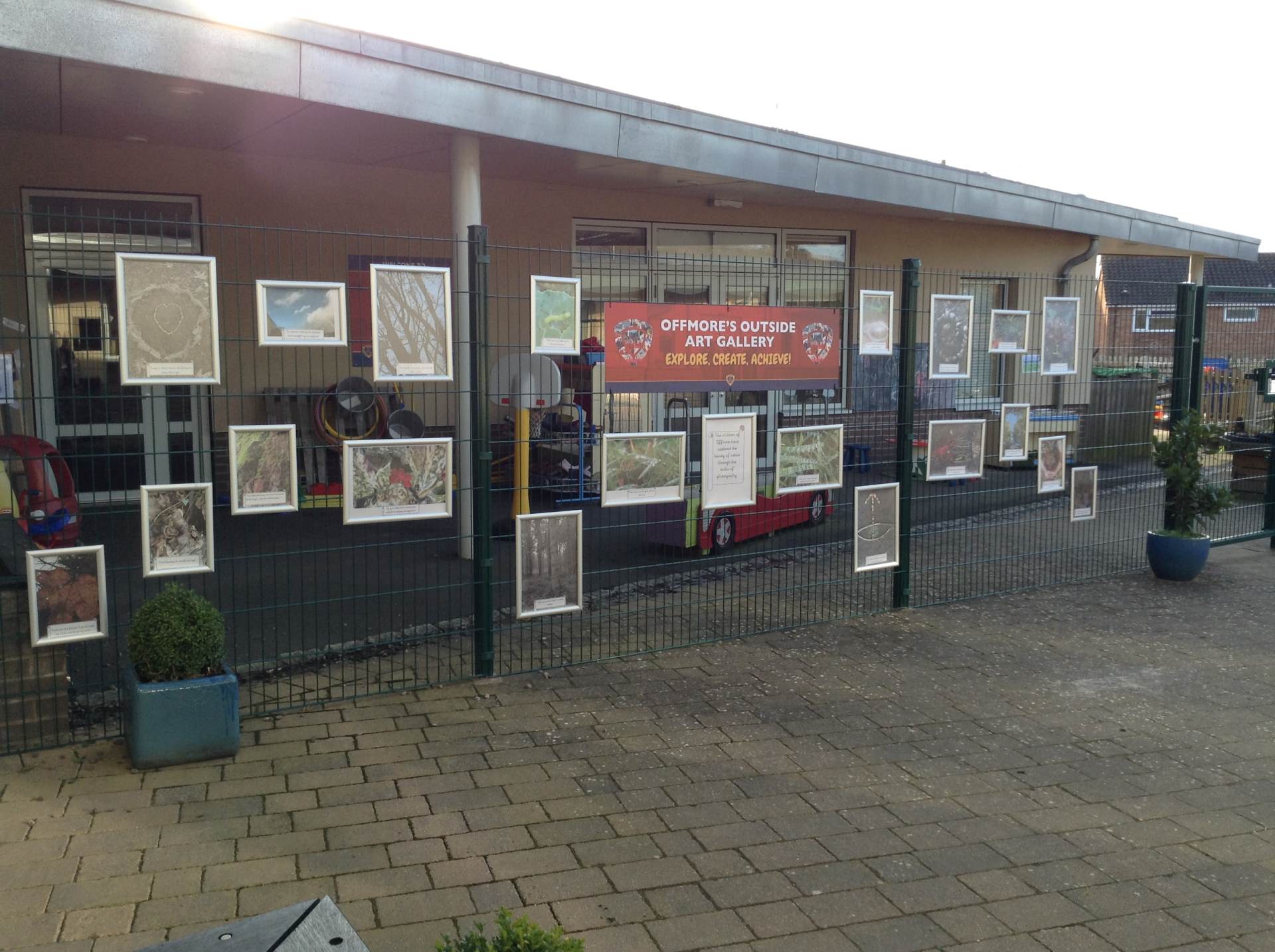 Making Links
Preparing children for the future is a fundamental aspect of education and we try to create opportunities for children to understand how each subject could enrich their lives or become a possible career. We pride ourselves on the breadth of experiences and visiting professionals that staff and children have the opportunity to encounter during their time at Offmore.
Understanding Our Differences
Here at Offmore we like to celebrate our difference and there is no better way to do this than through the arts. Art and Design is all about expressing yourself, about trying new things and celebrating both success and failures.
"Art is not what you see, but what you make others see" - Edgar Degas
Wider World
At Offmore we understand the importance of looking after our environment, we want our children to take responsibility and understand that their actions have an impact on our world. Working closely with Eco schools, we have been using The Arts to visually represent the importance of recycling.
In Nursery and Reception, the children are beginning to be able to safely use a variety of materials and tools, working together to create bird feeders. In Year 1 and 2, children have been developing their drawing skills, communicating something about themselves into a drawing by designing their own plant pot. Helping the environment was a lot noisier in Year 3 and 4, where the children were focusing on creating texture and shape, by saving up all their recycling the children designed and made junk instruments. Using these instruments, they then created and preformed a rap to promote recycling. This year, Year 5 and 6 have been on a mission to raise awareness about climate change. Rather than buying new materials, the children used the natural environment to create art work and developing their printing skills.
Local Community
Being at the top of the school comes with both opportunity and responsibility. Here at Offmore, we understand that the transition to high school can be a daunting process and we try to support the children to feel as prepared as possible. Through the Arts we are able to make links with our local high school, giving the children a chance to get to know King Charles staff and start to familiarise themselves with the school. This is also a wonderful opportunity for our year 5 and 6 children to use King Charles' fantastic facilities.
Working with the Textiles teacher, the year 5 and 6 children have created these sunning pieces. Choosing one of our Offmore Values, the children designed and produced their own puzzle piece - using a range of different textile techniques, including: sewing, transfers and printing. These amazing works of art are on show as part of our 'Heart of the Curriculum' display, come and take a look.
"We are each unique and beautiful, but together we are a masterpiece."
Voices and Visions
This year Offmore Primary School is proud to announce that we will be a part of the Voices and Visions Arts Exhibition at Worcester Cathedral. This exhibition will be open to the public from Saturday 18th May until Sunday 16th June.
Art skill progression at Offmore